Daybreak Woven Wall Hanging
$118
Made Trade Verified
Fair Trade
Handcrafted
BIPOC Owned
Sustainable Materials
Vegan
Women Owned
Product details
• Natural sisal fibers and forest grasses
• Small bowl: 7" diameter
• Medium bowl: 12" diameter
• Grand: 18" diameter and 2" depth
• Sold individually
• Handcrafted by artisans in Rwanda
Inspired by the sunrise, this asymmetrical design brings a unique accent to any space. Add a pop of texture with the woven detail of the Modern Neutral Daybreak Wall Hanging on your wall, down your hallway, or paired with the
Revolve Wall Hanging
.

Care: Wipe with a dry cloth.
Have a question about a product? Need help with sizing, fit, or customizing a product? Ask us anything and our Customer Support team will be happy to assist you!
Hassle-free returns for U.S. orders
Exchanges and returns for store credit are free for your first request on all eligible items. Returns for a refund are subject to a $6 per package shipping fee. Final sale items* are not eligible for return. Please initiate your return/exchange within 22 days of order fulfillment. All returns and exchanges must be unworn, unwashed, unused, and in original condition with tags to be eligible for return. Refunds or exchanges will not be processed for returned items that have been used or show signs of visible wear.

Final sale items
Furniture, lighting, oversized items (hampers and all rugs except bath mats), gift cards, all underwear bottoms, bodysuits, sale items noted as final sale, and orders outside the United States shipped through our shipping partner, Stackry, are all final sale. In some cases, products may have special notes indicating they are final sale as well.
Free shipping
$100+
Incredible
customer service
Easy
returns
Satisfaction
guaranteed
Customer Reviews
Write a Review
Ask a Question
06/10/2021
Samuel S.

United States
Darker then expected!
It's a nice basket! Just the color is much darker then expected!
06/07/2021
Jennie S.

United States
Very beautiful
I had a hard time finding an extra large basket for my wall, so I was super happy to find this one. It was very pretty and high quality.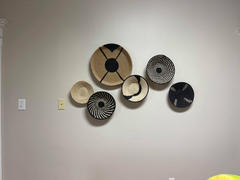 Made Trade is a
woman-owned company
Every Made Trade order is
100% carbon neutral
We're a family-run
small business